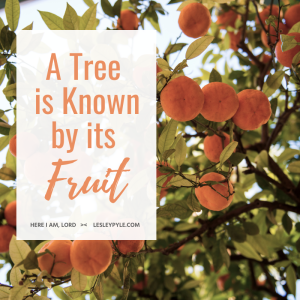 In Matthew chapter 12, verse 33 says "Either make the tree good and its fruit good, or make the tree bad and its fruit bad, for the tree is known by its fruit." The same can be said about us – we will be known by the fruit of our lives. Our fruit is displayed in our lives through our words and our actions.
So how are we to bear good fruit? John 15:5, tells us "I am the vine, you are the branches. He who abides in Me, and I in him, bears much fruit; for without Me you can do nothing."
Bearing fruit in the Christian life is not about doing good works or striving for perfection or righteousness in our own strength. It is more about growing in our relationship with Christ, inviting the Holy Spirit to work in us to refine us and seeking to obey God in all He calls us to.
When we are connected with God through prayer, worship and reading God's Word, we are able to produce the fruit God cultivates within us. It is God who does the work in us, we are just bearing the goodness of that abiding.
The fruit He bears in us will reflect the fruit of the Spirit which in Galatians 5:22-23 Paul says, "the fruit of the Spirit is love, joy, peace, patience, kindness, goodness, faithfulness, gentleness, and self-control.
In a world of conflict and division, exuding the fruits of the Spirit is not only attraction; it's inspiring. When we respond in love and kindness to those who may not be treating us in that way, it is fruit that can have a powerful impact.
When you exhibit joy, it is noticeable and people want to know where your joy comes from. Hearing it comes from the Lord, may cause someone to seek God in some small way. You could be planting seeds just by exhibiting the joy of the Lord.
And in our world of instant gratification, when you show patience and gentleness, people notice. It is a subtle yet beautiful way to exhibit the fruits of the Spirit.
Maybe this has you thinking about your words, your conversations or your actions and how you can exhibit the fruits of the Spirit in your life.