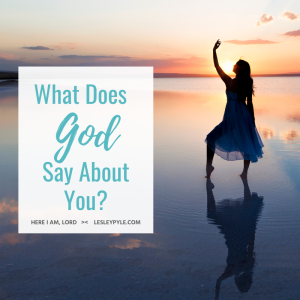 Most of us at different points in our lives have been our own worst enemies. We can fill our own heads with negative self-talk, doubt, fears and worries. Why do we allow ourselves to go down these dark and hurtful paths? The more we allow negative self-talk, the more we will have a distorted and negative view of ourselves.
Instead, we have to remind ourselves what God says about us. What He says is where we can find the truth and not some version we've created or hurtful words others have spoken over us.
Jesus Christ accepted us, esteemed us and approved us by his sacrifice.
"But God demonstrates His own love toward us, in that while we were yet sinners, Christ died for us." Romans 5:8 "For the wages of sin is death, but the free gift of God is eternal life in Christ Jesus our Lord." Romans 6:23
We can't allow past failures and shortcomings to cloud our true value to God and to those around us. I have always said, "God does not make junk." He creates masterpieces and we are each one. "For we are God's masterpiece. He has created us anew in Christ Jesus, so we can do the good things he planned for us long ago." Ephesians 2:10
Psalm 139:13-14 tells us, "For you created my inmost being; you knit me together in my mother's womb. I praise you because I am fearfully and wonderfully made; your works are wonderful, I know that full well."
If you can't receive God's Word as truth, pray a prayer of repentance for not believing Him and His Word and ask Him to help you truly believe His Word over you and for you. Ask Him how He sees you and give yourself time to hear from Him. He may even give you a vision if you allow Him time to speak. Ask Him what He calls you. He may have a special name or phrase He calls you.
Open your Bible and ask Him for specific scriptures to mediate on in this season. Or use a search tool to find scriptures relevant to this season of life, whether it's scriptures on finding your purpose or healing your heart, there are scriptures that will speak to whatever you are going through.
And remember John 10:10 that the thief comes to steal, kill and destroy. Be on guard and pray against the attacks that come to prevent you from living a whole and free life in Christ.
When you choose to believe what God says and thinks about you, there is freedom and there is peace! God loves you and He adores you. He knows you are not perfect and He isn't expecting perfection. He desires us and a wholehearted relationship with Him. That's the beauty of knowing our Creator!