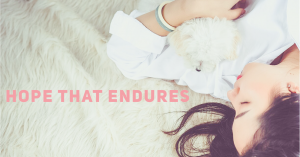 This week as I was spending time with the Lord and asking Him what to write about, I sensed the word Hope. I believe that the Lord wanted to remind you and I where our hope comes from and where it should be placed.
Where have we been placing our hope? Is it in our spouse? Career? Kids? Investment accounts? Have we found any of those that have not let us down?  Probably not.
Where Our Hope is Safe
There is only one safe place we can put our hope, and that is Jesus Christ. He is the steady rock that does not change regardless of our circumstances. His promises are many, and His promises are forever. He is faithful, and He is the only thing that will not let us down. If you've been married more than a day, your spouse has probably let you down.  Our careers and our kids let us down.  And we know money and investments do not stay steady. If we put our hope and trust in any of those, we will find ourselves on shaky ground.
Our hope must be on Christ alone. And when those trials and heartaches do come in our lives, we will still grieve. We will still have disappointment but our hope in Him will carry us through. He will carry us through those valleys and heartaches.
God's Promises
God promises to heal our hurts and pains as we open our hearts to him and ask for His amazing healing strength: "He heals the brokenhearted and binds up their wounds." (Psalm 147:3)
He promises never leave us or forsake us. We never have to go through hard times alone. "The Lord himself goes before you and will be with you; he will never leave you nor forsake you. Do not be afraid; do not be discouraged." (Deuteronomy 31:8)
He will sustain us. When we think we can't go on any more, He promises He will sustain us. "Cast your cares on the Lord and He will sustain you; he will never let the righteous be shaken." (Psalm 55:22)
"But those who hope in the Lord will renew their strength. They will soar on wings like eagles; they will run and not grow weary; they will walk and not be faint." (Isaiah 40:31)
He promises, "You will seek me and find me when you seek me with ALL your heart." (Jeremiah 29:13)
As the psalmist says, we must," lift up [our] eyes to the hills. From where does [our] help come? [Our] help comes from the Lord, the maker of heaven and earth."  (Psalm 121:1-2)
These are our promises. These are our hope. He is our Hope!