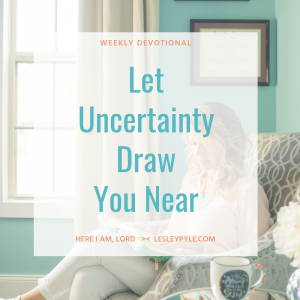 Dear Child,
My love is steadfast and unchanging. Circumstances do not change or interfere with My divine plans. In fact, I use them to grow and refine you.
Trust Me as you walk through uncertainty. I will shelter you from all that is troubling you when you give it to Me.
Purpose in the Struggle
There is beauty that comes from struggle. Some things cannot be learned without it. Hope is born. Trust is deepened. Faith is strengthened.
All that I am doing through this season will be worth it. I have opportunities for you to grow and experience Me through each of them.
Desire Me above the answers to your prayers. Turn to Me and not the solutions of the world. They are meaningless and temporary. What I have is meaningful and eternal. Turn your eyes up to Me.
Give Me space to speak and move and don't be so rigid in your expectations. Instead, trust Me and know that I am working even when you can't see a thing. Remember My ways are not your ways.
Trust Me in the Waiting
Be still and continue to pray and trust in Me to work all things out. I am orchestrating all things and much is going on that you cannot see or sense. Not everything will happen as you think or want, but I have divine purposes in it all.
I have not moved from the plans I have for you. Plans to bring you hope and a future.
I am God. I am your Abba Father.
Even when It seems impossible, trust Me.
= = = = = = = =
Struggle Has Purpose
This reminded me of a story of a little boy who saw a cocoon. He was so eager to help the butterfly fly that he decided to use a pair of small scissors to help the butterfly out. What he didn't know was that it is through the process of struggling and pushing itself out that the butterfly gains the strength to fly. It is the struggle that strengthens the butterfly's wings. Without that process, the butterfly isn't strong enough to fly.
So just like a butterfly, we sometimes need struggle to build our strength and our ability to fly.
= = = = = = = =

"For my thoughts are not your thoughts, neither are your ways my ways, declares the Lord." Isaiah 55:8

"For I know the plans I have for you," declares the Lord, "plans to prosper you and not to harm you, plans to give you hope and a future." Jeremiah 29:11
"For in the day of trouble he will keep me safe in his dwelling; he will hide me in the shelter of his sacred tent and set me high upon a rock. " Psalm 27:5
"However, as it is written: "What no eye has seen, what no ear has heard, and what no human mind has conceived"— the things God has prepared for those who love him." 1 Corinthians 2:9