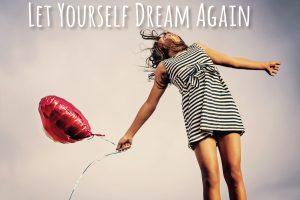 Our pastor recently gave a sermon series entitled, Dream Again.  At first I thought, what are my dreams? Do I have still have any? Have I just not allowed myself to dream lately? Has life gotten so busy that I am just stuck in the day to day?
Can you relate? I started to think of my life, my business and what things I used to dream about. I did have dreams, but I put them on a shelf and they had gathered a lot of dust.
What causes us to stop dreaming? For me, in addition to allowing life to get in the way, I think I begin to think some of them were unattainable. And there was a part of me that had lost the fire and passion reach those dreams. I had not written down a goal or a dream or made the effort to attain one in quite a while. I had let myself become complacent and not focusing on growing and seeing where God wanted to grow me outside of my relationship with Him.
For me, it's time to start dreaming again. It's time to get creative and think outside of my normal day to day thinking. I'm pushing myself out of my comfort zone this year. One way I'm doing that is I'm totally revamping my online business with a complete new website, new look and new business model.  It is a risk, but I feel its time and I feel its worth the risk.
I've also signed up for some seminars and functions as well as signed up to volunteer in a new area. I've also started reading a few books to get my creative juices flowing and to challenge me to grow. I love this website a fellow neighbor recommended Cultivate What Matters for women.  There's also a great article on Focus on the Family on "Discovering Your God-Given Purpose".
Where have you let yourself get complacent? What areas of your life have been dormant? Where do you need to start allowing yourself to dream again? What one thing can you do today to take a step towards one of your dreams or to start setting goals?
Remember YOU are the only YOU God created. He knit you perfectly into the person you are. He placed dreams within your heart that He wants you to find and fulfill. Join me, and let's dream again. I'm certain a new adventure awaits!
"Commit your work to the Lord, and your plans will be established." Proverbs 16:3
 "The plans of the diligent lead to profit as surely as haste leads to poverty." Proverbs 21:5