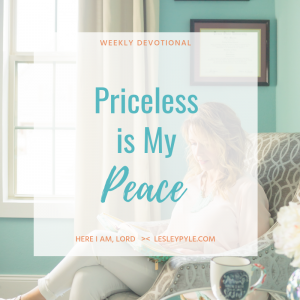 Rest in Me and My perfect peace. Release your cares and worries to Me. Allow Me to work in My timing.
My plans are multi-faceted and are far above your finite understanding. There's nothing too hard for Me or that I cannot do. Sometimes you need to release and trust and not run like a hamster on a spinning wheel. You waste precious time and energy when you try to force your own agenda.
There is much I can do through a surrendered heart. Say yes to Me and no to the world. It is a great adventure and one that you will not be disappointed in.
My peace is priceless and something the world cannot offer. I cover you with it when you give me all your cares and worries. My peace surpasses understanding. And no matter what trial you are walking through, I am with you. I am with you always. Call upon Me and know that I am God.
Give Me Your Anxious Heart
Be still and know that I am. Give Me your anxious heart, and I will give you My peace and calmness. My peace I give to you, not as the world gives. 
The world cannot manufacture peace, it only comes through Me. It is one of the blessings of life lived in Me.
I calm the storms and bring serenity when everything around you seems to be chaos. There is a supernatural peace that is only obtainable through Me.
Seek Me with all your heart and you will find Me. And in Me, you will find what your heart has been searching for. 
"And the peace of God, which transcends all understanding, will guard your hearts and your minds in Christ Jesus." Phillipians 4:7
"Do not be anxious about anything, but in every situation, by prayer and petition, with thanksgiving, present your requests to God." Phillipians 4:6
"Peace I leave with you; my peace I give to you. I do not give to you as the world gives. Do not let your hearts be troubled and do not be afraid." John 14:27