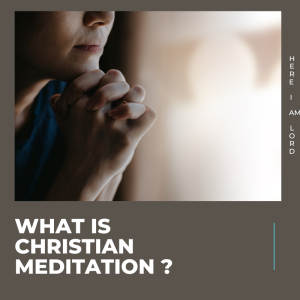 Christian meditation is a type of prayer that helps us focus more intently on God through silence and dwelling deeply on particular scriptures to gain more understanding of scriptures and hear what God has to say to us about them. The word meditation means to think deeply or to think carefully about something. 
What Does the Bible Say About Meditation
The Bible tells us that when we meditate, we should meditate on God's words. Joshua 1:8, states "This Book of the Law shall not depart from your mouth, but you shall meditate on it day and night, so that you may be careful to do according to all that is written in it. For then you will make your way prosperous, and then you will have good success."
Psalm 1:1-2 says, "Blessed is the one who does not walk in step with the wicked or stand in the way that sinners take or sit in the company of mockers, but whose delight is in the law of the LORD, and who meditates on his law day and night."
Psalm 19:14, "May these words of my mouth and this meditation of my heart be pleasing in your sight, LORD, my Rock and my Redeemer."
Psalm 119:97-98 "Oh, how I love your law! I meditate on it all day long. Your commands are always with me and make me wiser than my enemies."
How to Meditate
The best place to start is in a quiet place. That may be your home office, your bedroom or even your closet. Next, pick the scriptures to focus on. You can pick some that have been on your heart, some that have been spoken through sermons or podcasts or simply google a topic that interests you or that you need guidance on such as forgiveness and see what scriptures correlate to that topic.
There are also some free apps that may be helpful. Here are a few that I like:
When meditating, some people like total silence and others like very soft instrumental or nature sounds in the background. Do what works best for you.
Next, take a minute or two to try to fully relax. You may take some deep breaths to inhale and exhale any stress or busyness you may be feeling or play a hymn or worship song that helps you unplug from the outside world.
Next, read or listen to the scriptures you want to meditate on two or three times. As you listen or read those scriptures, meditate on what the Holy Spirit may be showing you or teaching you about those scriptures. Open your heart to hear from Him and give Him the time and space to speak to your heart.
Meditation can be as long or short as you want it to be but it should be long enough to feel immersed in the scriptures and allow you time to relax into it. You may find 5 minutes is long enough or you meditate for an hour. There is no right or wrong answer. Meditation should also help you ease stress, anxiety and any other emotions you may be feeling.
After your time of meditation, say a prayer of thanks to God or write about it in a journal. It may be an enriching thing to read later in life to see how God has worked and blessed your time with Him and perhaps how you've gained more peace and calmness in your life.