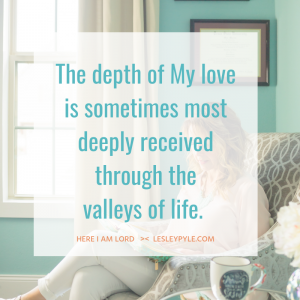 I say rejoice in sufferings because some of my most beautiful work is done there.
The depth of My love is sometimes most deeply received through the valleys of life.
Look for the beauty in those moments as you draw deeper and deeper into My heart.
My Heart Aches With Yours
You must know I do not enjoy seeing you suffer.
My heart aches when yours aches but the depth of intimacy we achieve through it is what makes it beautiful.
I know the weight of disappointment you are carrying but continue to trust in Me and My sovereign plan. You cannot possibly understand or figure to what I am doing in the unseen.
From Heartache to Rejoicing
Your heart must be trained to trust in Me. Let me make beauty from the heartache of feeling you failed in some way. You have not.
Do not fall for the lies of the enemy. He knows your tender spots and he aims his lies right at them.
Look at all the ways I've made beauty from ashes and trust that I will here too My child. There is and will be brokenness but Who better to make something beautiful out of it than Me.
Without brokenness, you would not know Me the way you do. I use these heartaches to draw My children to Me. I am your Abba Daddy, and I am theirs too. Force yourself to keep your heart and eyes on Me.
Wait on Me to fulfill My promises. I will turn heartaches into rejoicing. You know I will My child. I always keep My promises.
"The Lord is close to the brokenhearted and saves those who are crushed in spirit." Psalm 34:18
"… but we also glory in our sufferings, because we know that suffering produces perseverance; perseverance, character; and character, hope." Romans 5:3-4
"My comfort in my suffering is this: Your promise preserves my life."Psalm 119:50
"The Lord your God is with you,
the Mighty Warrior who saves.
He will take great delight in you;
in his love he will no longer rebuke you,
but will rejoice over you with singing." Zephaniah 3:17