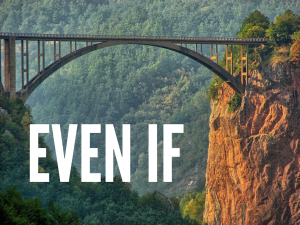 So, by now, many of you know that we have put our dream home — the home we originally thought would be our forever home — on the market out of obedience to what God laid on our hearts. And not just on the market but in a luxury, no reserve, auction. Sounds crazy but sometimes God calls us out of our comfort zones to trust Him even deeper. Risk causes us to need Him even more.
I began sensing Him releasing my grip off of our home maybe a year and a half ago. I remember coming to a place where I said Yes Lord, whatever you are calling me / us into, I say Yes. We didn't know and still don't know exactly what that is but we know two things: this is a step of obedience for us and that furthering His Kingdom is a part of that plan.
Now this auction is 4 days away — this Thursday at 2pm (as I write this in May). I must admit, at times, especially as it gets closer, my heart races at all of the "what ifs". You know the enemy loves to come at you when you say Yes to God and send fear, doubt, worry and anxiety. But I am constantly reminded this is HIS story to tell. Regardless of what happens, there is a testimony evolving to bring Him glory and touch people for eternity. And like Shadrach, Meshach and Abednego, I KNOW MY GOD can deliver us (Daniel 3:16-18) and do immeasurably MORE than we could hope or imagine (Eph 3:20), BUT EVEN IF HE DOES NOT, we will still PRAISE HIM!
Shadrach and his two buddies felt the same way. Remember how it turned out for them? It wasn't looking good. The king was infuriated at their refusal to bow to his gods so he ordered the furnace heated seven times hotter than usual and had them tied up and thrown in. The flames were so hot, the soldiers who threw them in burned up. But not the three men of God, they were walking around in the furnace unharmed. And a mysterious fourth person was seen walking with them. Shocked, the king called them out and saw that not a hair on their head was singed nor was there any smell of fire on them. God had delivered them miraculously!
How can we doubt? We serve a mighty and powerful God! Whatever God calls us to, He will deliver us. Our trust is in Him!
"The Lord Almighty has sworn, Surely, as I have planned, so it will be, and as I have purposed, so it will happen." Isaiah 24:14
"Many are the plans in a person's heart, but it is the Lord's purpose that prevails." Proverbs 19:21