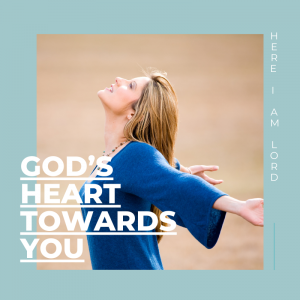 Do you ever feel like God is disappointed in you; that there's no way He could forgive you for what you've done or your sinful past? Or that you've gone too far or been away from Him for too long? Can I tell you those are all lies? Every one of them. God's heart towards you is love.
If you are a parent, have your children ever disappointed you? Have they made you angry? Probably so. But I bet your love for them never wavered. You love them with a heart of a father or a mother. Our God loves us that way but infinitely and far more perfectly than we could ever love our own children.
God loves us this way because that is His nature and the expression of Who He is. He loves the unlovable, the unpopular, the wretched and the sinner not because we deserve to be loved or because of any great qualities we possess, but because it is His very nature to love. It's Who He is.
He loves us in spite of our sin, our failures and our selfishness. He even loves us enough to provide a way to abundant, eternal life with Him.
God's love is shown not only by what He says in His Word, but also by what He does. God's love is displayed most clearly on the cross. "God, being rich in mercy, because of the great love with which he loved us, even when we were dead in our trespasses, made us alive together with Christ—by grace you have been saved" (Ephesians 2:4–5). We do not come near to deserving this great sacrifice, "but God demonstrates his own love for us in this: While we were still sinners, Christ died for us" (Romans 5:8).
God's love is unmerited, gracious, and is constantly pursuing His children. We may not feel worthy or good enough and frankly we aren't but that's the beauty of the Father's love. He meets us where we are with open arms and invites us to receive His unconditional love and a beautiful relationship with Him that is based on grace, mercy, forgiveness and love.
In response, I can think of no other Psalm so that so beautifully captures our response to Him: "You, God, are my God, earnestly I seek you; I thirst for you, my whole being longs for you, in a dry and parched land where there is no water.I have seen you in the sanctuary and beheld your power and your glory. Because your love is better than life, my lips will glorify you. I will praise you as long as I live, and in your name, I will lift up my hands." Psalm 63:1-4
In a dark and uncertain world, it's reassuring to know we have a Father who is there for us all day and all night and Who sees us, hears us, knows us intimately. If you haven't trusted Christ as your savior, I invite you to find that beautiful peace, hope and security that can only be found in Him.