I didn't want to admit it but I found myself in this place. I found myself distanced from God, and it was not a good feeling. Disappointment has a way of stealing our joy, doesn't it? And if we allow it to, it can also distant us from a loving, all-knowing God.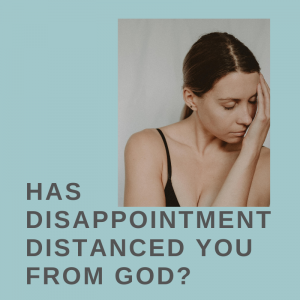 I had to get honest with myself and look a bit deeper into my heart. I realized that the hope I had, had diminished, and I had given up somewhat on the prayers I had been praying for.
I felt like the prayers I was praying aligned with Him and what I thought, in my humanness, were His will. But were they? I was just certain things would be different by now, but they weren't. My heart mourned, and I found myself questioning God.
I asked myself, what if that hope is never fulfilled? What if? Then I reminded myself that God is in control and He has allowed these circumstances for a reason and a purpose that I cannot see or understand.
So, I force myself to refocus my heart and my mind and remind myself that God is good despite what I see. He still loves me and will never forsake me. His plans are for purposes greater than I can see or know. I simply must trust and not set my expectations on what I think should be or should happen. I must relinquish my desires and my plans and surrender to His.
God's perfect will is worth the unknown, the waiting and the uncertainties. And if God hasn't made a way, He has a reason. Isaiah 55:8 reminds us, "For my thoughts are not your thoughts, neither are your ways my ways, declares the Lord".
As I read Psalm 37 afresh, many verses stood out to me including Psalm 37:7, which says, "Be still before the Lord and wait patiently for him; do not fret when people succeed in their ways, when they carry out their wicked schemes."
Tony Evans shares some solid words here: "Friend, whatever you are facing, if you focus on the circumstances, the circumstances will overwhelm you. They will overpower you. They will swallow you up. Jesus invites you to come to Him in the midst of risky situations. He asks you to step out in faith. But He gives you success only when you keep your eyes focused on Him. You will become consumed by your circumstances if you choose to focus on them. Like Peter, you will sink. But if you choose to return your gaze to Jesus as Peter did, He can lift you back up so you are above the stormy sea once again. Remember, Jesus hadn't moved when Peter started to sink. Peter's focus moved. Only when Peter adjusted his focus back on Jesus did he receive the divine intervention he desperately needed."
So, let's focus our eyes on Jesus, where our hope should always be. He loves us. He knows us. And He has plans and purposes greater than our hearts and minds can comprehend.