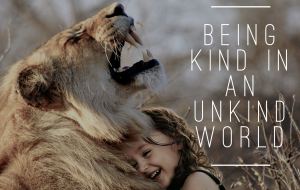 We recently had an issue with one of our children being unkind to another child. It did not sit well with me but I was thankful to be a witness to it so that I could address it, not only with discipline, but also make a teachable moment out of it.
We are urged to be kind in a world where kindness is not the norm. God's Word says, "Therefore, as God's chosen people, holy and dearly loved, clothe yourselves with compassion, kindness, humility, gentleness and patience." Colossians 3:12
The Golden Rule
It's not hard to treat others with kindness but it seems kids (and even some adults) can lose sight of this in their desire to feel superior, cool or bossy. I asked my child who was unkind what it would feel like to be on the receiving end of that treatment. No one likes to be treated unkindly. It's the golden rule, "Do to others as you would have them do to you."Luke 6:31
We should all "remember that whoever sows sparingly will also reap sparingly, and whoever sows generously will also reap generously." 2 Corinthians 9:6
So I say, go ahead and sow kindness lavishly! Be outrageously kind and see if you do not reap generously. Sometimes it's easy to see when we've been rewarded by some unexpected blessing from God and at other times, it may take more time or thought to see it. But even if we do not see our kindness or blessing returned, just knowing we have treated others with outrageous kindness is worth it!
Kindness Challenge
On that note, I thought I'd share some easy and fun kindness ideas for you and your family to try. You can do some of these together or challenge your kids to do some of them at school. How many can your family check off?
Invite someone to sit with you at lunch (or invite them to lunch).
Do a household chore without being asked
Create a family gratitude jar and add to it daily.
Welcome a new neighbor with baked goodies.
Leave little notes of encouragement wherever you go.
Adopt a child through Compassion.com or WorldVision.org.
Cut out hearts and leave them on cars.
Write a thank you note to your: bus driver, mail man, trash collectors, custodian.
Volunteer in your community.
Write a happy message with sidewalk chalk.
Post a positive message on social media.
Let someone go ahead of you in line.
Leave a kind note in a library book.
Buy coffee or lunch for the person behind you in the drive thru.
Donate food to the food pantry.
Bring flowers to your teacher.
Visit a nursing home and sing songs.
Invite someone to play on the playground.
Tell the principal what you like/love about your teacher.
Say thank you when you see military, police or firemen.
Bring your neighbors' garbage cans up for them.
Tape a video message and send to faraway friends.
Donate coloring books and crayons to the children's hospital.
Ask for donations instead of birthday gifts.
So remember, in a world where you can be anything, BE KIND!