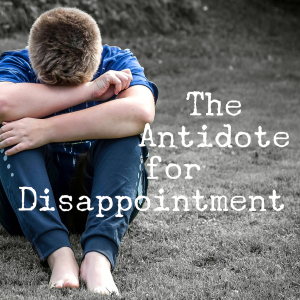 We live in a world full of people who make mistakes, including ourselves. We disappoint others, and they disappoint us. And sometimes it's our circumstances that bring the disappointment. Disappointment has a way of nagging at our hearts and minds. But how do we deal with it in a healthy way? How do we prevent it from bringing us down?
When we set our expectations on people or on our circumstances, we unknowingly set ourselves up for disappointment. It's hard not to put expectations on our spouse, our children, our boss and co-workers but if we can do that, we've prevented a lot of opportunities for disappointment to take hold. Instead of putting our hopes in people or our circumstances, God tells us that we are to put our hope in Him. He will not disappoint.
"Then you will know that I am the

Lord; 

those who hope in me will not be disappointed." (Isaiah 49:23)
"Disappointment is the first seed of doubt that intrudes on our faith. Disappointment sounds so harmless, but it's the tip of a wedge that will stop our spiritual growth and make us bitter and defeated. Think of disappointment as a test permitted by God to see if you'll continue trusting Him, obeying Him, and believing that He is good," Vicky Kraft, "Dealing with Disappointment"
So if you are heavy laden with disappointment what are you to do? You may not feel like it, but we are to give thanks. "Rejoice always, pray continually, give thanks in all circumstances; for this is God's will for you in Christ Jesus." (1 Thessalonians 5:16-18)
We may not want to give thanks for the circumstance causing disappointment, but we can give thanks for so many other things in our lives. We must choose to focus our eyes and heart on "whatever is true, whatever is noble, whatever is right, whatever is pure, whatever is lovely, whatever is admirable—if anything is excellent or praiseworthy—think about such things". (Philippians 4:8)
No matter what we are going through, we can find something to be thankful for. I challenge you to make an ongoing list of things you are thankful for. Every day strive to add 5 new things to your list. When you start to feel disappointment, grab your list instead and give thanks to the Lord for He is good. His love endures forever!
And if you are up for even more of a challenge, I encourage you to read "One Thousand Gifts — A Dare to Live Fully" by Ann Voskamp. May your hearts be enlightened by the love of the Father and the blessings all around beckoning us to see, enjoy and give thanks for.