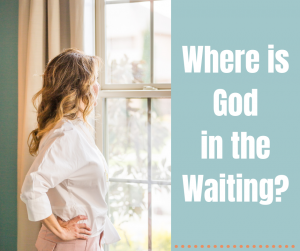 If I had to define this season of my life, it would probably be "Praying and Waiting". I have two big things I've been praying over, and I just get weary of waiting. And then I begin doubting what I believe God to have said.
Maybe you can relate. It feels like time is not on my side and that I've been waiting so long.
So as I was walking with the Lord recently, I just poured out my heart and began talking to Him:
"Lord, I need fresh hope, fresh understanding, fresh encouragement, fresh perseverance. I'm weary of contending, of asking and believing and not seeing Your answer.
Have I misunderstood what I felt you speak to me?
Was I wrong?
Have I been unfaithful to anything you've asked of me?
Am I lacking courage or understanding?
Show me what I need to do. I'm just weary Lord. Weary in the waiting and unsure I'm on the right track."
As I poured out my heart and got some things off my chest, I felt these words in my spirit….
"Be still and trust Me. Do you not think I have the power to move mountains or to call forth what I want when I want it?
Do you think I would let my beloved children sit and feel forgotten? Would you do that to your own children? Do your kids ask for things they are not ready for? And what do you say? You say, "no, not yet or not now.
It is the same with Me. Do not believe the lie that you have been forgotten or that I do not care. I care more about you than you can understand.
Have courage and faith to trust Me even when you can't see the progress you'd like. Your answer hasn't fully come in, but it's on its way. Keep trusting Me and anticipating great things. I won't disappoint you. My promises are steadfast, and I will never go back on My Word.
Your job is to keep your heart open to Me. Don't put Me on your time table. I am God, and I work outside of time. Keep your eyes steady on Me. I am your Abba Father."
God once again has reassured me and reminded me He is in charge, not me. I don't know where you are or if you've been contending for someone or something but I hope this encourages your heart as it has mine.
These are some of God's promises that we can all cling to:
• "This is the confidence we have in approaching God: that if we ask anything according to his will, he hears us." 1 John 5:14
• "Ask and it will be given to you; seek and you will find; knock and the door will be opened to you. For everyone who asks receives; the one who seeks finds; and to the one who knocks, the door will be opened." Matthew 7:7-8
• "God will do this, for he is faithful to do what he says, and he has invited you into partnership with his Son, Jesus Christ our Lord." 1 Corinthians 1:9 NIV