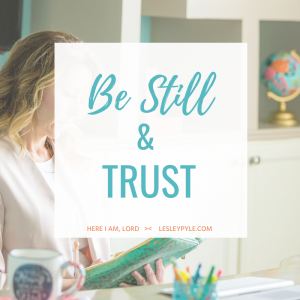 Be still and know that I am God. I am with you now and always. I am a refuge in the storm. Stay near to Me and trust Me no matter what you see or hear. I am working in all of this – turning hearts and lives to Me.
Be strong and courageous. Do not fear. If I am for you, who can be against you? Keep your eyes on Me — just like I instructed Peter on the stormy seas. When he took His eyes off of Me, what happened? He began to sink. But did I not save him? Yes, as soon as he asked.
Come to me all who are weary and heavy-burdened and I will give you rest. Rest that allows your heart and mind to rest, not just your body.
Remember, I will fight for you; you only need be still. I have overcome the world and am with you now and forever.
"Be still, and know that I am God; I will be exalted among the nations, I will be exalted in the earth." Psalm 46:10
"God is our refuge and strength, A very present help in trouble. Therefore we will not fear, though the earth should change." Psalm 46:1-2
"Have I not commanded you? Be strong and courageous. Do not be frightened, and do not be dismayed, for the Lord your God is with you wherever you go." Joshua 1:9
"The name of the LORD is a strong tower; The righteous runs into it and is safe." Proverbs 18:10
"The LORD is my rock and my fortress and my deliverer, My God, my rock, in whom I take refuge; My shield and the horn of my salvation, my stronghold." Psalm 18:2
"The LORD is near to the brokenhearted and saves those who are crushed in spirit." Psalm 34:18
"But as for me, the nearness of God is my good; I have made the Lord GOD my refuge, That I may tell of all Your works." Psalm 73:28
"I have set the LORD continually before me; Because He is at my right hand, I will not be shaken." Psalm 16:8
"Draw near to God, and he will draw near to you." James 4:8
"I lift up my eyes to the hills. From where does my help come? My help comes from the Lord, who made heaven and earth. He will not let your foot be moved; he who keeps you will not slumber. Behold, he who keeps Israel will neither slumber nor sleep." Psalm 121:1-4
"What then shall we say to these things? If God is for us, who can be against us?" Romans 8:31
"And Peter answered him, "Lord, if it is you, command me to come to you on the water." He said, "Come." So Peter got out of the boat and walked on the water and came to Jesus. But when he saw the wind, he was afraid, and beginning to sink he cried out, "Lord, save me." Jesus immediately reached out his hand and took hold of him, saying to him, "O you of little faith, why did you doubt?" And when they got into the boat, the wind ceased. And those in the boat worshiped him, saying, "Truly you are the Son of God." Matthew 14:28-33
"Come to me, all who labor and are heavy laden, and I will give you rest. Take my yoke upon you, and learn from me, for I am gentle and lowly in heart, and you will find rest for your souls. For my yoke is easy, and my burden is light." Matthew 11:28-30
"The Lord will fight for you; you need only to be still." Exodus 14:14
"I have said these things to you, that in me you may have peace. In the world you will have tribulation. But take heart; I have overcome the world." John 16:33