As a Christian, there are times where our faith and trust can get shaken. Times when things don't go our way or the way we thought they would go. We can get tempted to turn to fear, to doubt, to control or just plain give up.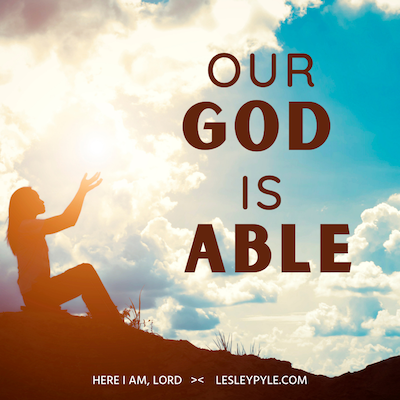 But giving up is the opposite of faith and trusting God through the hard stuff. The Bible is full of accounts of God doing the impossible from parting the Red Sea (Exodus 14), to raising the dead (2 Kings 4 / 2 Kings 13) and giving voice to donkeys to talk (Numbers 22). If you have been contending in prayer and need to be reminded of how powerful our God is, let the account of these guys remind you!
"Shadrach, Meshach, and Abednego answered King Nebuchadnezzar, "Your threat means nothing to us. If you throw us in the fire, the God we serve can rescue us from your roaring furnace and anything else you might cook up, O king. But even if he doesn't, it wouldn't make a bit of difference, O king. We still wouldn't serve your gods or worship the gold statue you set up."
"Nebuchadnezzar, his face purple with anger, cut off Shadrach, Meshach, and Abednego. He ordered the furnace fired up seven times hotter than usual. He ordered some strong men from the army to tie them up, hands and feet, and throw them into the roaring furnace. Shadrach, Meshach, and Abednego, bound hand and foot, fully dressed from head to toe, were pitched into the roaring fire. Because the king was in such a hurry and the furnace was so hot, flames from the furnace killed the men who carried Shadrach, Meshach, and Abednego to it, while the fire raged around Shadrach, Meshach, and Abednego.
Suddenly King Nebuchadnezzar jumped up in alarm and said, "Didn't we throw three men, bound hand and foot, into the fire?" "That's right, O king," they said. "But look!" he said. "I see four men, walking around freely in the fire, completely unharmed! And the fourth man looks like a son of the gods!" Nebuchadnezzar went to the door of the roaring furnace and called in, Shadrach, Meshach, and Abednego, servants of the High God, come out here! Shadrach, Meshach, and Abednego walked out of the fire. All the important people, the government leaders and king's counselors, gathered around to examine them and discovered that the fire hadn't so much as touched the three men—not a hair singed, not a scorch mark on their clothes, not even the smell of fire on them!
Nebuchadnezzar said, "Blessed be the God of Shadrach, Meshach, and Abednego! He sent his angel and rescued his servants who trusted in him! They ignored the king's orders and laid their bodies on the line rather than serve or worship any god but their own. Therefore, I issue this decree: Anyone anywhere, of any race, color, or creed, who says anything against the God of Shadrach, Meshach, and Abednego will be ripped to pieces, limb from limb, and their houses torn down. There has never been a god who can pull off a rescue like this. Then the king promoted Shadrach, Meshach, and Abednego in the province of Babylon." Daniel 3:16-30 MSG
The faith shown by these three men should encourage us all to continue to trust God no matter what we see in front of us. He is able. He is good and He loves us all with an everlasting love!