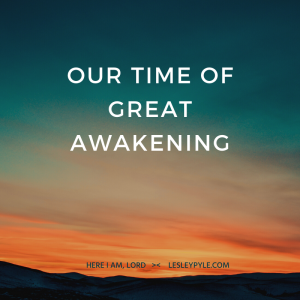 "Arise, shine, for your light has come, and the glory of the LORD has risen upon you. For behold, darkness shall cover the earth, and thick darkness the peoples; but the LORD will arise upon you, and his glory will be seen upon you. And nations shall come to your light, and kings to the brightness of your rising." (Isaiah 60:1-3)
I believe we are in a season of great awakening.
Awakening to so much that many of us had no idea was going on in our country and in our world. We are also being awakened to repent of our complacency, of our idol worship, of our pride, our selfishness, our sins. I believe we are being called to rise up in voice, in prayer, in humility and repentance.
I have put the idols of work, family, social media, busyness, activities and self in God's place in different seasons of my life. It saddens me to admit it, but I know He is calling me and us to a deeper place of repentance, humility and surrender and for the idols in our lives to fall. (Psalm 97:7)
If we want more of Him, we have to be willing to give Him his proper place in our lives. (Matthew 6:33)
It's clear that the battle before us is not of flesh and blood; it is a spiritual battle of good vs evil. "For we do not wrestle against flesh and blood, but against the rulers, against the authorities, against the cosmic powers over this present darkness, against the spiritual forces of evil in the heavenly places. Therefore, take up the whole armor of God, that you may be able to withstand in the evil day, and having done all, to stand firm." (Ephesians 6:12-13)
It is not a battle to be won on social media or even at the polls. It is a battle to be won in humility, repentance and seeking God on our face. He truly is our ONLY Hope!
A few of the keys to our battle can be found in Psalm 51:10 and James 5:16 which state, "Create in me a clean heart, O God, and renew a right spirit within me," and "The prayer of a righteous person is powerful and effective."
Those verses call us to search ourselves, to repent, to ask for forgiveness and to ask to be washed afresh with the blood of Christ. When we are one with Him, our prayers are powerful and effective!
Our country did not get where it is now overnight. It has been a progression of evil advancing while many of us were complacent or unaware. And I believe God is giving us a chance to return to Him.
"If my people who are called by my name humble themselves, and pray and seek my face and turn from their wicked ways, then I will hear from heaven and will forgive their sin and heal their land. Now my eyes will be open and my ears attentive to the prayer that is made in this place." (2 Chronicles 7:14-15)
"I have said these things to you, that in me you may have peace. In the world you will have tribulation. But take heart; I have overcome the world." (John 16:33)
Please join me in praying fervently for our country, our people and our leaders.