Allowing God to do a Holy Cleansing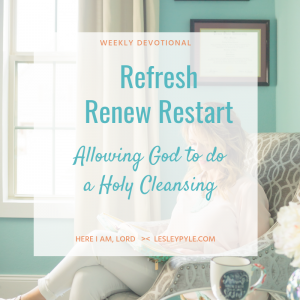 Close your eyes and allow Me to refresh you and renew your mind. Let Me purge out all the nonsense and replace it with Truth.
The world is noisy and sometimes you need to remove yourself long enough to be renewed in Me.
Just like a filter collects a lot of dirt so your spirit and mind collects a lot of pollution that I need to purge out. Let me do a holy cleansing and give you a clean heart, mind, spirit and "filter".
Just picture a dirty filter being cleaned and replaced with a new white filter.

Along with that take some deep breaths. They are cleansing too. Breathe out all of the junk and breathe in My truth and love.
Clear the Pollution
The world tends to pollute you, and I am how you get cleansed of all the pollution that collects in your heart, mind and spirit.
It's harder to hear and connect with Me when you are filled with this pollution. You must remind yourself to come to me for a Holy reset and purging of all that you have collected.
Lay all of your junk out before Me. Give it all to Me. I know it all anyway. But you must release it to Me. Trust Me with it.
This holy cleansing is freeing. It is necessary. It releases you of the burdens you are trying to carry. It reminds you of the Truth and of Who I Am.
Refresh Renew Restart
With My cleansing and healing, it is a new day full of hope, truth and love.
And with Me, nothing is impossible.
"Therefore, since we have these promises, dear friends, let us purify ourselves from everything that contaminates body and spirit, perfecting holiness out of reverence for God." 2 Corinthians 7:1
"I am the Lord, the God of all mankind. Is anything too hard for me?" Jeremiah 32:27
"May the God of hope fill you with all joy and peace as you trust in him, so that you may overflow with hope by the power of the Holy Spirit."
Romans 15:13