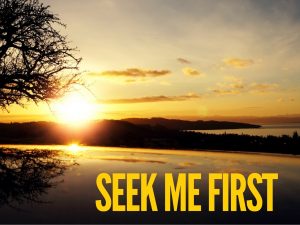 Lord, you are my rock, my salvation, my hope.  In You only, is there hope. In You and You only is there eternal life. Thank you for your constant pursuit of us, your children. Open our hearts to sense your pursuit and to know how dearly we are loved by You. There is none like you O Father. None. You are the creator of the heavens and the earth. You speak life into existence. Who can measure Your worth or fathom Your greatness. It is beyond our comprehension.
Seek Me first my child. Proclaim my love to the lost, the hurting and the suffering. Let them know I see them. There is none who escape my eyes. All of My creation is precious in my sight. I do not rank as you do. Power and success in the world are meaningless in My economy. A faithful and contrite heart are what I desire. All that the world offers is meaningless and of no eternal value. Keep your eyes heavenward where true treasure and rewards are kept.
Be still and rest in My amazing grace. Know that nothing can satisfy the longing of your soul but Me and My love. I am your all in all. I am your sufficiency. You strive for much but you do not have to strive for My love. It is yours just for being My child. Your worth is in Me, not in the world. You will never be enough in the world's eyes but you are perfect in My eyes. I created you in my likeness. I know the number of hairs on your head. I designed you and knitted you in your mother's womb. I make no errors. When you look in the mirror, you are looking at My masterpiece. Wholly and purely made and loved by Me; the same God who spoke creation into existence.
I created You; allow me to put my longings into your heart. I have a plan for you My beloved; a good and fulfilling plan. Remember My ways are not your ways and I do not follow man's agenda. Give Me the freedom to move you in ways that may not seem natural or normal. I am the God full of infinite wisdom and power. Nothing is too difficult for Me. I only need a willing and obedient heart to do amazing things. It's not too late. I can accomplish in a day what you cannot accomplish in a lifetime. Trust in Me my child. Trust in Me.
Love,  Your Abba Daddy