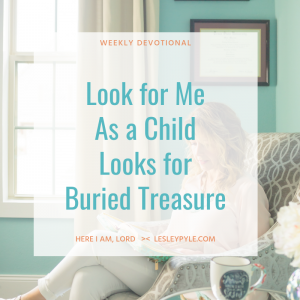 My child, you are where I want you — seeking Me, desiring Me, worshipping Me, obeying Me, listening for Me, waiting on Me.
I have the power to change things in an instant. Time is no constraint to Me. I hold it all in the palm of My Hand. If I can speak the earth into existence, I can answer a prayer with such simplicity.
Treasures Along the Way
It is the work I do in My children that is the real miracle. Each step of the way I am wooing them deeper in trust and intimacy with Me. I can do all things but the process I take you through holds the most beautiful gifts.
It is like treasures along the way. Striving in your humanness takes away these treasures. It is meant to be a journey with me. Rejoice in that.
Take pleasure in the journey with Me. Look for Me as a child looks for buried treasure. Let your heart rejoice that I am with you every step of the way. You never walk alone unless you choose too. Take Me along each and every day.
True Adventure Awaits
I delight in sharing every moment with My children just as you delight when your children want to spend time with you, when they have no agenda but your love and attention.
Don't just want, want, want. Enjoy the beauty of just being still with Me. I adore you My child. I am well pleased with you.
Take delight in Me.
I delight in you.
I am your Abba.
"Delight yourself in the Lord, and he will give you the desires of your heart.." Psalm 37:4
… And behold, I am with you always, to the end of the age." Matthew 28:20
"Be still, and know that I am God. I will be exalted among the nations, I will be exalted in the earth!" Psalm 46:10